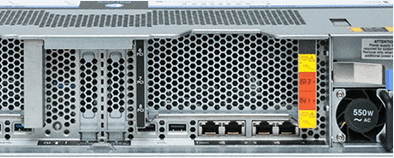 IBM Lenovo X3650 M5 Server Rental

Fully customizable X3650 M5 Server
We customize x3650 M5 Server to match your budgetary needs and performance requirements. We don't do 'one size fits all.

Lower Rental Prices
Looking for IBM x3650 M5 Server cost? We promise to keep server rental cost competitive, if you found servers cheaper elsewhere then let us know and we will match that price.
Looking for X3650 M5 Server Rental? Call Our Expert +91 9886-699-666 or Email us : sales@serverental.com
IBM Lenovo x3650 M5 Server Specifications

Processor
Intel® Xeon® processors E5-2600 v4 series
Intel Xeon Six Core E5-2603 v4 (15M Cache, 1.70 GHz)
Intel Xeon Twenty Core E5-2698 v4 (50M Cache, 2.20 GHz)
Intel Xeon Twenty Two Core E5-2699 v4 (55M Cache, 2.20 GHz)

Mother Board
1 – 8 PCIe 3.0 slots (supports up to 4 GPUs and up to 1 x ML2)
1 dedicated RAID slot
Broadcom NetXtreme I Quad Port GbE Adapter
Power Supply
1/2 redundant 550W AC, 750W AC, 900W AC, 1500W AC, 900W DC 80 PLUS Platinum, or 750W, 1300W AC 80 PLUS Titanium

HDD Capacity
Up to 24 front and 4 rear 2.5-inch HDDs (or) up to 12 3.5-inch and 2 rear 3.5-inch HDDs
2TB/4TB/5TB/6TB/7.2 K rpm 3.5 SATA HDD
300 GB/600GB 15K rpm 3.5 SAS HDD
300 GB/600GB/900GB/1.2TB 10K rpm 2.5 SAS HDD
2TB/4TB/6TB 7.2 K rpm 3.5 NL SAS HDD
200GB/400GB/800GB/1.6TB 2.5 TB SSD SAS HDD

Memory
4GB/8GB/16GB/32GB
running at 64GB TruDDR4 2400MHz Memory
Max Memory – Up to 1.5TB
Total –24 DIMM Slots

Raid Controller
M5225 SAS/SATA controller
ServeRAID M5210 SAS/SATA controller
ServeRAID M1215 SAS/SATA controller
IBM x3650 M5 Server Overview
IBM SystemX3650 M5 rack server offers World-class performance and industry-leading reliability in a powerful, versatile 2U two-socket platform.
IBM SystemX3650 M5 has high system performance with the Intel Xeon processor E5-2600 v4 product family with up to 22-core processors, up to 2400 MHz TruDDR4 memory, up to 55 MB of L3 cache, and up to 9.6 GT/s QPI interconnect links.
Energy-efficient planar components , power supplies with 80 PLUS Platinum and Titanium certifications, Low-voltage Intel Xeon processors, Low-voltage 1.2 V DDR4 memory, Calibrated Vectored Cooling™ technology,and Lenovo XClarity Energy Manager are the energy efficient features of IBM SystemX3650 M5 to reduce operational costs ,save energy, increase energy availability, and contribute to the green environment.
The user can run more workloads and virtual machines with up to 22 percent more cores than last generation servers.
Built-in Lenovo Trusted Platform Assurance, IBM Security Key Lifecycle Manager and optional self-encrypting drives safeguard enterprise data.
Configuration tips: Selection of impressive array of storage configurations with up to 28 drive bays to optimize diverse workloads from Big Data to Cloud. Support for one dedicated ServeRAID slot for the first adapter and Up to eight PCIe 3.0 I/O slots to provide long-term investment protection along with flexibility and greater performance.
Workloads: Enterprise applications, database, cloud computing and virtualization, collaboration/email, business analytics and big data, virtual desktops, and Microsoft RemoteFX applications.