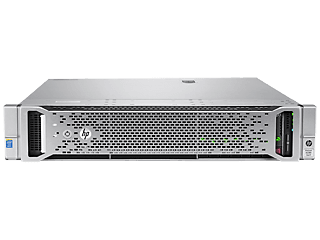 HP ProLiant DL380 Gen9 Server Rental

Fully customizable ProLiant DL380 Server
We customize ProLiant DL380 Server to match your budgetary needs and performance requirements. We don't do 'one size fits all.

Lower Rental Prices
Looking for ProLiant DL380 Server cost? We promise to keep server rental cost competitive, if you found servers cheaper elsewhere then let us know and we will match that price.
Looking for dell servers Rental ? Call Our Expert +91 9886-699-666 or Email us : sales@serverental.com
HP ProLiant DL380 Gen9 Server Specifications

Processor
Intel Xeon Processor E5-2600v3 & E5-2600v4 Product Family
Intel Xeon Twelve Core E5-2680 v3 (30M Cache, 2.50 GHz)
Intel Xeon Sixteen Core E5-2698 v3 (40M Cache, 2.30 GHz)
Intel Xeon Forteen Core E5-2697 v3 (35M Cache, 2.60 GHz)
Intel Xeon Six Core E5-2603 v4 (15M Cache, 1.70 GHz)
Intel Xeon Twenty Core E5-2698 v4 (50M Cache, 2.20 GHz)
Intel Xeon Twenty Two Core E5-2699 v4 (55M Cache, 2.20 GHz)

Mother Board
Intel® C610 Series Chipset
HPE Embedded 1Gb Ethernet 4-port 331i Adapter 3 PCIe slots
iLO Management (standard), Intelligent Provisioning (standard)
Power Supply
HPE 500W Flex Slot Platinum Power Supply

HDD Capacity
up to 12 * 3.5″ AND UPTO 24 * 2.5″ drives SAS/SAS SSD, SATA SSD HDD
500 GB/1TB/2TB SATA 7.2K RPM 2.5″
500GB/1TB/2TB/3TB/4TB/6/TB /8TB SATA 7.2K RPM 3.5″
300GB/450GB/600GB/900GB/1.2 TB/1.8TB SAS 10K RPM 2.5″
146GB/300GB/450GB/600GB/900GB/1.2 TB/ SAS 15K RPM 2.5″
200GB/400GB/800GB/1.6 TB SSD HDD 2.5″

Memory
4GB/8GB/16GB/32 GB/
running at DDR4 2400MHz Memory
Max Memory – Up to 768 GB
Total –24 DIMM Slots

Raid Controller
HPE Dynamic Smart Array B140i Controller
HPE Flexible Smart Array P440ar/2G FIO Controller
HPE Smart Array P840ar/2G Controller
HPE ProLiant DL380 Gen9 Server Overview
The HPE ProLiant DL380 Gen9 Server delivers the latest performance and expandability. Reliability, serviceability and near continuous availability, backed by a comprehensive warranty, makes it ideal for any server environment. Deploy the data center standard. Designed to reduce costs and complexity, leveraging Intel's latest E5-2600 v4 processors with 21% performance gain, plus the latest HPE 2400 MHZ DDR4 SmartMemory supporting 3.0 TB and up to 23% performance increase. Supporting 12 Gb/s SAS, 40 Gb NIC with broad range compute options. HPE Persistent Memory, the world's first NVDIMM optimized on ProLiant, offering unprecedented levels of performance for databases and analytic workloads. Run everything from the most basic to mission critical applications, and can be deployed with confidence.
The HPE ProLiant DL380 Gen9 Server has a flexible redesigned chassis, including new HPE Universal Media Bay configuration options with 8 to 24 SFF and 4 or 12 LFF drive options along with NVMe options and additional rear drive support for expandability and investment protection The HPE ProLiant DL380 Gen9 Server supports industry standard Intel Xeon E5-2600 v3 and E5-2600 v4 processors with up to 22 cores, 12G SAS and 3.0 TB of HPE DDR4 SmartMemory
With HPE ProLiant DL380 Gen9 Server, HPE OneView provides infrastructure management for automation simplicity across servers, storage and networking The HPE ProLiant DL380 Gen9 Server comes with a complete set of HPE Technology Services, delivering confidence, reducing risk and helping customers realize agility and stability.
Our configuration Tips: With the embedded SATA HPE Dynamic Smart Array B140i Controller for boot, data and media needs, the redesigned HPE Flexible Smart Array and HPE Smart SAS HBA Controllers allow you the flexibility to choose the optimal 12 Gb/s controller most suited to your environment
Workloads For Highly virtualized environments, Server consolidation, Business processing, General Data-intensive Applications, data bases, large scale transaction processing