Sun Fire V880 Server on Rental, Upgrade or Repair
The Sun Fire™ V880 server is an ideal system for an extensive range of applications, including Internet and database, e-commerce, ERP, and messaging. Accommodating two to eight UltraSPARC® III processors with up to 64 GB of main memory.
Looking for Sun Fire V880 Server Rental?
Call Our Expert +91 9886-699-666 or Email us : sales@serverental.com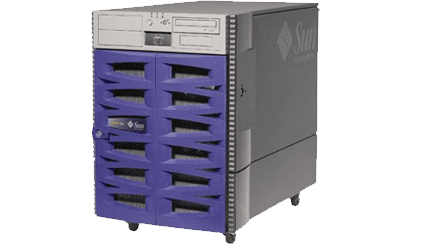 Sun Fire V880 Servers on Rentals
The Sun Fire V880 server also boasts an integrated, fibre-channel disk subsystem that supports twelve disks. The 9.6-GB/sec. system bus, integrated I/O adapters, and nine PCI slots help ensure a highly scalable, well-balanced system whether the workload is I/O intensive, compute intensive, or both. Other enhanced reliability, availability, and serviceability (RAS) features include Automatic System Recovery (ASR), Remote System Control (RSC), and System Service Processor (SSP), which allow restoration of service and facilitate remote and/or centralized management, respectively.
Sun Fire V880 Specifications:
Processor Options
Processor Up to Eight 750 MHz UltraSPARC[tm] III (64-bit)
900 MHz UltraSPARC III (64 bit)
Architecture Superscalar SPARC® V9
Processor modules One or Quad processor/ memory module
Cache (L1) 64-KB data and 32-KB instruction per pipeline
Secondary (L2) 8MB external per processor
Main Memory
Total of 16 DIMM memory slots available per CPU/Memory board
128, 256, 512 MB, or 1GB* (16GB maximum per CPU/Memory board,
64GB maximum when configured with 8 processors) 1GB DIMMs only supported on 900MHz CPU/Memory boards. Note: Install DIMMs in groups of four
MMU with 64 I-TLB entries and 64 D-TLB entries, 8192 hardware-supported contexts,
232-Pin 7-nS memory modules.
Standard/Integrated Interfaces
One Gigabit Ethernet (1000BASE-T) dual SC fiber optic port
One Ethernet/fast Ethernet (10BASE-T/100BASE-T)
Twisted-pair standard connector (RJ-45)
PCI
Nine full sized, hot-swap, PCI slots compliant with PCI specification Revision 2.1:
Two slots operating at 66-MHz, 64 or 32 bits wide, 3.3 volts
Seven slot operating at 33-MHz, 64 or 32 bits wide, 5 volts
Remote System Controller
One RSC card plugs into a dedicated slot on the system I/O board
Which includes integrated modem, serial and Ethernet Interfaces
One EIA-232D serial port (RJ-45), 56 Kbps modem port (RJ-11)
One 10 Mbps Ethernet port (RJ-45)
Two RS-232D/RS-423 serial ports (DB25) via splitter cable (X985A)
Mass Storage and Media
Internal SCSI to support the internal DVD and optional removable media devices
10X DVD-ROM (standard)
Internal disk
Up to 12 3.5″ x 1″ 10000 RPM FC-AL disks, 36.4GB, or
73.4GB capacity. Maximum total capacity of 876GB.
Power Supplies
2 minimum, 3 for N+1 redundancy, individual power cords
1100W maximum per power supply