Sun Fire V440 Server on Rental, Upgrade or Repair
The Sun Fire V440 server is a data center-class, entry-level server that is powered by up to four 1.593-GHz UltraSPARC IIIi processors.
Looking for Sun Fire V440 Server Rental?
Call Our Expert +91 9886-699-666 or Email us : sales@serverental.com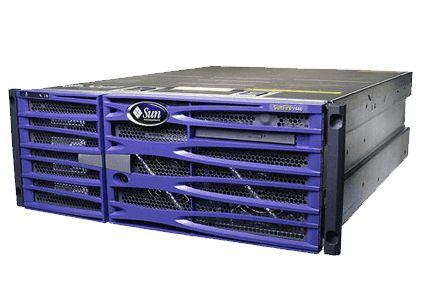 Sun Fire V440 Servers on Rentals
Features such as six PCI slots, two 10/100/1000 Mb/s Ethernet ports, up to four disk drives, and 32 GB of memory prove the rack-optimized Sun Fire V440 server has the capacity to meet the needs of compute-intensive applications. The Sun Fire V440 server also contains high-availability and manageability features in a compact, 4U package. Hot-plug, front-accessible disk drives; redundant hot-plug power supplies (with independent cords); and a System Configuration Card that permits easy and quick identity transfer enhance the Sun Fire V440 server's uptime. Easily visible system and component LEDs provide serviceability features that enable quick diagnosis and repairs, while the system's Advanced Lights Out Manager (ALOM) provides remote management and diagnostic capability.
Sun Fire V440 Server Specifications:
Processor Options
Processor Two to four UltraSPARC IIIi1.28 GHz & 1.593 GHz
Architecture 64 bit, 4-way superscalar SPARC® V9
Cache 64 KB data, 32 KB instruction and 1-MB integrated L2
MAIN MEMORY
4 DIMM slots per processor, registered DDR-1 SDRAM
System configurations from 4 GB to 32 GB-Maximum 32 DIMM slots
Mass Storage and Media
Internal Disk Up to four hot-plug Ultra320 SCSI 73-GB disks
Internal DVD One Slim line ATAPI DVD-ROM
PCI I/O options
Serial management One TIA/EIA-232-F (RJ45) port
Serial One TIA/EIA-232-F asynchronous (DB9) Port
SCSI One Ultra320 SCSI (LVD) USB Four OHCI-1.0-compliant Interfaces,
Supporting dual speeds of 12 and 1.5 Mbits/sec.
Each Expansion Bus Six internal PCI 2.2-compliant
Expansion slots: Three 64-bit, 33/66-MHz, 3.3-V, full-length Three 64-bit 33-MHz 5-V full-length
Standard/Integrated Interfaces Network
Two 10/100/1000Base-T Ethernet Network One 10Base-T Ethernet management
System Configuration Front-accessible for transfer of Card
system configuration information, Including host ID
Management Sun TM Management Center Sun SNMP Agent Sun N1 System Manager Advanced Lights Out Management (ALOM) Sun Net Connect Sun Update Connection