IBM System 9133 55A Server on Rental
The IBM 9133 System p5 550 and 550Q deskside and 4U rack-mount server Model 55A gives you new tools for managing your business, greater application flexibility, and innovative technology all designed to help you become an On Demand Business.
Looking for IBM 9133 55A Server Rental?
Call Our Expert +91 9886-699-666 or Email us : sales@serverental.com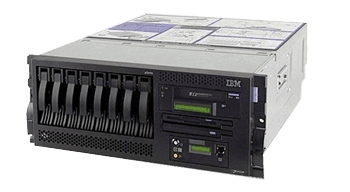 IBM System 9133 55A Servers on Rentals
The System p5 550 is available in 2-and 4-core configurations using one or two 2-core 1.65, 1.9, or 2.1 GHz IBM POWER5+ processors. The System p5 550Q is available in 4-and 8-core configurations, using one or two 4-core 1.5 or 1.65 GHz processors. Each processor card has eight DIMM slots. The base 1 GB of main memory can be expanded to 64 GB for faster performance and exploitation of 64-bit addressing as used in large database applications. The rack-mount IBM System p5 model 550 and 550Q with either the AC or -48V DC power supply are NEBS Level 3 and ETSI compliant.
IBM System 9133 55A Specifications:
2-core, 4-core, and 8-core SMP design (one or two 2-core or 4-core processor cards)
Desk side or rack-mount (4 U) configurations
p5-550 — 2-core 2.1 GHz with 36 MB L3 cache
p5-550Q — 4-core 1.65 GHz with 2 36 MB L3 caches
1 GB of DDR-2 533 MHz ECC memory
Expandable to 64 GB
Eight hot-swap disk drive bays
Up to 2400 GB of internal disk storage 73.4 GB 10,000 RPM Disk Drive.
A maximum of five hot-swap PCI-X slots
Four 64-bit, 3.3 volt, 133 MHz 64-bit PCI-X slots .
One or two GX+ slots (share same space as two PCI-X slots)
One hot-swap DDR 266 MHz 64-bit PCI-X slot
IDE controller for connection to internal optical devices
Dual 10/100/1000 Gb Ethernet
PCI-X slots Dual channel Ultra320 SCSI controller (internal only; RAID optional)
IBM IDE Slimline DVD-ROM Drive
Two USB, two HMC, two system ports.
1050 Watt AC, Hot-swap.